Autumn 1997 (5.3)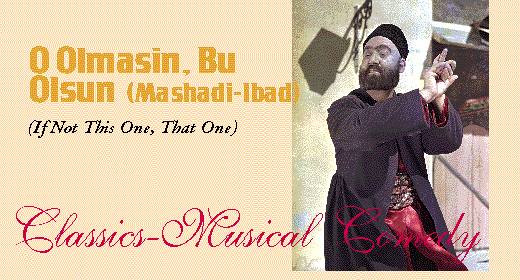 Back to Hajibeyov.com - Music Index
Photo Essay
Mashadi Ibad
Popularly known by the name of the main character, "Mashadi Ibad" was based on a musical comedy by composer Uzeyir Hajibeyov and written in the early 1900s. Two versions of the movie were produced-one in Baku, the other in Tehran. The Azerbaijan version (1956) was produced in color, based on the screenplay by Sabit Rahman and directed by Husein Seyidzade. The story pokes fun of traditionally arranged marriages and emphasizes emerging modern life styles versus old traditions.

The story is based on the age old-theme of a beautiful young woman (Gulnaz) who falls in love with a young man (Sarvar) but is obliged to marry someone else. Gulnaz' father, Rustam bey, is bankrupt. He decides that the only way to pay off his creditors is to get money by marrying off Gulnaz to the rich, old, widowed bazaar merchant, Mashadi Ibad.

But Sarvar contrives a way to foil the plan by disguising himself as the bride hidden under the thick Muslim veil. When Mashadi Ibad lifts the veil to see his bride's face, he discovers Sarvar who holds him at gun point and makes him write a statement that he really wants to marry the maid, not Gulnaz. This is where the work gets its title, "If Not This One, Then That One." The strategy works and Sarvar succeeds in marrying Gulnaz.


| | |
| --- | --- |
| | |
Left: Rustam bey (Aghasadyg Garabeyli) loses his wealth at the casino.

Right: A fight breaks out in the bazaar between various hooligans.


Left: During the bazaar fight, Gochu Askar (Movsum Sanani) suddenly bumps into Rustam bey, who is so frightened that he invites him to the wedding announcement party.

Right: Hasan bey (Mustafa Mardanov) at Rustam bey's party where the wedding is announced. After getting drunk, he accuses Rustam bey of selling his beautiful daughter to the old man Mashadi Ibad who is as ugly as an orangutan!


Left: Mashadi Ibad standing on the back of a "hambal" (porter) and

(right) peering over the garden wall to see his fiancee Gulnaz. To his surprise, she is not alone, but with her lover, Sarvar.
Left: On the wedding night, the groom finally gets a chance to take off the veil of his bride. Instead of Gulnaz, he finds her lover, Sarvar, who confronts him with a gun and forces him to sign a paper that he really doesn't want to marry Gulnaz at all but prefers, instead, to marry the maid.

Right: The wedding scene-the wedding of the true lovers. Gulnaz (Tamara Guzalova) marries her true love, Sarvar (Arif Mirzaguliyev).

Home | AI Store - Hajibeyov Music
Contact us: ai@artnet.net

© Azerbaijan International. Copyright 2001. All rights reserved.