Autumn 1997 (5.3)
"Arshin Mal Alan" - The Cloth Peddler
Musical Comedy by Uzeyir Hajibeyov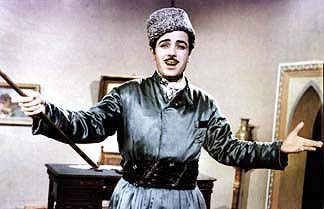 "Arshin Mal Alan" - (The Cloth Peddler) is probably the most famous of all movies ever produced in Azerbaijan. The original story is based on a musical comedy (1913) by composer and writer Uzeyir Hajibeyov. Five versions of the movie have been made, including a Farsi version in Tehran (see the Azeri article in Arabic script in this issue).

The first two versions appeared in 1916 and 1917 before the Bolshevik Revolution and the establishment of the Soviet Union (see "Celebrating 100 Years in Film, Not 80"). The third version was produced during the Soviet period during World War II (1945) and is considered the most successful despite its being in black and white (see photo, page 31). It was directed by Reza Tahmasib and Nikolai Leshenko. Singer Rashid Behbudov launched his career with this film in his role as Askar. The movie won Hajibeyov, the "Stalin Medal," and can be viewed in the basement cinema of the Uzeyir Hajibeyov Home Museum in Baku.

"Arshin Mal Alan" satirizes everyday social practices and traditions, particularly those related to the cumbersome practice of women wearing veils, and the consequences this practice had on interpersonal male-female relationships.

The 1965 version of the film which is in color shown here was directed by Tofig Taghizade. Music was performed as follows: Askar (Rashid Behbudov), Gulchohra (Khuraman Gasimova) and Asya (Fidan Gasimova). The orchestra was directed by Niyazi, one of Azerbaijan's most famous conductors.




Left: Gulchohra (Leyla Shikhlinskaya) tells her father Sultan bey (Aghadadash Gurbanov) that she loves the peddler. The servant, Telli (Safura Ibrahimova), and her cousin, Asiya (Khuraman Hajiyeva), both try to stop her, knowing her father will strongly object to her lowering her status.

Right: Beautiful Gulchohra, thinking of her love, the peddler.




Happy ending for all four couples in the story.

"Arshin Mal Alan"- Plot
The setting is turn-of-the-century Baku. Young Askar wants to get married. He is a rich, successful businessman and has everything he could wish for except for one thing-a wife. Tradition does not allow him to choose his own bride. Marriages are customarily arranged and, in fact, it's impossible for young men to even catch a glimpse of potential brides as they are secluded in their homes and never come out unveiled or unaccompanied.

But Askar has a modern mentality and wants to choose his bride himself. Askar's friend Suleyman suggests that Askar disguises himself as a cloth peddler, gain entrance into the courtyard of private homes where all the women will gather around him to purchase his goods.

So Askar wanders from house to house as a poor peddler selling fabric. Eventually, he meets Gulchohra, the beautiful daughter of Sultan bey, a wealthy merchant. Askar decides Gulchohra is the one he wants to marry. She, too, falls in love with him, although she knows him only as a peddler.

Askar then approaches Gulchohra's father as the wealthy businessman that he really is, not as a peddler, and asks to marry Gulchohra. Sultan bey is delighted at the proposal, but when he tells his daughter, she refuses, insisting that the only person she could ever love is the peddler. Eventually, through a series of incidents, Gulchohra learns that Askar is really her beloved peddler.

The story ends happily, four couples celebrate their marriages together. Askar marries Gulchohra. Suleyman marries Gulchohra's cousin, Asiya. Askar's servant, Valli, falls in love with Sultan bey's servant, Telli. The widower, Sultan bey, falls in love with Suleyman's widowed aunt.


From Azerbaijan International (5.3) Autumn 1997.
© Azerbaijan International 1997. All rights reserved.

| | | | |
| | |

HAJIBEYOV.com is a creation of Azerbaijan International magazine.
© Azerbaijan International. Copyright 2001. All rights reserved.