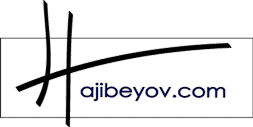 Memories of Uzeyir Hajibeyov

Interview with Rugiyya Rezayeva (1916- )
Former student of Uzeyir Hajibeyov





This interview was conducted by Betty Blair, Editor of Azerbaijan International, with Jala Garibova in Baku on April 7, 2002. Also present: Sana Baghirova (step-daughter of Rugiyya Rezayeva).
Translated by Aynura Huseinova. Prepared for Web by Arzu Aghayeva.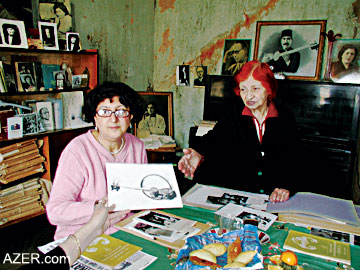 I was a student of Uzeyir Hajibeyov for six years. I know a lot of stories about Uzeyir Hajibeyov because he worked with my grandfather Faraj Rezayev, my father Ismayil Rezayev, and then my sister Aghabaji Rezayeva. My sister Aghabaji was the first woman composer student in the Muslim East. She also studied under Uzeyir Hajibeyov. She died In 1975.

I have so many memories about Uzeyir Hajibeyov. I love him. He was a very unique person-the likes of which have never existed in the past nor will exist in the future.




Photo: Sana Baghirova (left) and Rugiyya Rezayeva (right).

I say that because he was willing to help everyone. He was so quick to comprehend another person's mind and was very quick in making decisions about what kind of help he could offer others. He was a deputy [meaning in the Parliament of USSR in the 1940s] and that kept him very, very busy. But at the same time, he tried his best to help others. That's why when people had problems, they went to him.

He used to organize small packets of three manats and put them in his drawer. Whenever people came to him, he would say, "I understand what you need. Here's something." And then he would hand them some money. So he would give away his money this way. My sister and I never asked for money, but there were a couple of times that Hajibeyov would send my sister Aghabaji out of the room and then slip some money into her purse.

That's why I'm telling you that he was a very unique person. Because he could deal with his music, his deputy tasks and still be a very sociable person.

Bilal Aliyev
Let me tell you another story. Bilal Aliyev was a khanande [a traditional folk singer of mughams-traditional modal music]. He was very famous at that time and sang at the same period as my father did. Once he came and told Hajibeyov: "Uzeyir, I'm too old to sing. I can't sing any more." Uzeyir's replied: "Ok, ok I understand what you mean," and he gave a little pack of money.

Hajibeyov called his nephew Jamal Pashayev, who handled his financial affairs, and asked him to give Bilal 30 manats every month from his own account. What distinguished Uzeyir from other State figures was that he "never put things off until "tomorrow, he was very concrete in his actions.

He was such a nice person. He didn't have any children with his wife Maleyka khanum, but he didn't even think about getting involved with another woman or having a child from another woman. But, in fact, he could have done that.

He gave me very good musical scores. He had so many documents, scores, I regret so much that I did not keep them. He was conducting the orchestra that I played in. He opened the Eastern music Department within the National Music Department at the Music Conservatory.

Starting Music Lessons with Hajibeyov
It was during that time that my family was enjoying summer vacation in our summer home. One day my father told us that Uzeyir Hajibeyov wanted to see us. He told us to get ready to visit him the next day. At that time, no parents were allowing their daughters to enroll in music classes, so my father who was a professional musician decided to take his own daughters to that first class. After that, he figured that other parents would follow and let their daughters get involved with music as well.

Let me tell the whole story. Back in those days, [1930s] women were shy to play musical instruments. Nor did they participate in public affairs. You know, not until 1929 was the chador (veil) forbidden and women stopped wearing them. After that, if a young woman went to study at the university or institute wearing a chador, they would have dismissed her.

It was August 1934 that my father took us to the Conservatory. When Uzeyir Hajibeyov saw us, he said: "Ohh, brave girls, you've come". I'll never forget that.

Uzeyir was sitting there in the hall with Mirza Mansurov, who was my grandfather's student and had taught him many details and secrets about playing the tar. "Ok," Uzeyir said, "Mirza Mansur give your tar to the girls to play." My sister Aghabaji took the tar and played "Gulmugham". She had learned tar from father. Then I played a mugham, too.

My father had taught us tar despite the fact that my grandfather was against it. Grandfather said that he would never allow us become musicians. Once grandmother asked my grandfather to take us to Uzeyir Hajibeyov's piano classes but Grandfather said that he would never do that. He said that a lot of weird things happen to musicians. Girls with tender hearts could not survive the competitive, jealous atmosphere. Actually, he was right, he himself experienced such devastation by such musicians.

Then Uzeyir Hajibeyov asked my father to play and me to sing. At that time I had a very good voice and could sing very well. I sang something from "Kurd Shahnaz". After that, I sang a song that was new at the time, "Aman Ovchu" (Oh, My Hunter). I was 17 at the time. "Aman Ovchu" is not a folk song, but rather a song that had been composed.

My sister was four years older than me. She became a teacher at School No. 44. So we took music classes at the same time. Sayid Rustamov was giving us scores in tar class and Uzeyir Hajibeyov gave us music theory classes.

We had classes three times a week in the morning. Let me tell you about how the girls came to that class after us. On the whole there were about five, six students in the class.

Hajibeyov used to play the piano. He would have us write music dictations. He would play and we would sing. Then he taught us the scores. During the second year, we took an exam and passed to the second course. And then during the second year, he asked Aghabaji to join the orchestra which was associated with the Radio. He himself had organized this orchestra. Aghabaji played tar there.

Hajibeyov told me he would open a kamancha class at the Conservatory where I could study this folk instrument. I still remember he said: "One sister will play tar and the other kamancha. That will be wonderful."

Then they opened the kamancha class there but later it was moved to Asaf Zeynalli Music College. That was in 1935.

I don't know why they moved it there. The government decided that. I will show you the photo of the Armenian director of Conservatory. Can you imagine, he was appointed the director of Conservatory. (Then shows some photos). This is his student Mammad Javadov, he is two years older than me. Now he is 88. And this is his daughter and this is Uzeyir Hajibeyov.

Students were not afraid of Hajibeyov-no, not at all. No one ever saw him angry, or screaming at anyone. It seemed like there was no one that he didn't like. He helped everyone.

When students were lazy, he would just say: "Go, come back after you've learned it".

The KGB and Uzeyir Hajibeyov
Did Uzeyir faced pressure by government? Ohh, what you are talking about!!!! We suffered together.

I'll tell you the mostcruel incident that I know about. It has to do with Sarabski who had played in Uzeyir Hajibeyov's first opera. Sarabski performed the first Majnun. After Sarabiski's father died, his mother Khadija brought him up. Then Khadija went to the Molla with my grandmother Gulandam and the Molla read a "sigha" ("sigha" means temporary marriage but here it enables the two women to become relatives through "shariat".) So they became "sisters". After Khadija's husband died, my grandmother gave one of our rooms to them so Sarabski was at our place much of the time. It was Mammad Sadighov who told me this story that Sarabski had told him. Now I'm going to tell you that story.

One day in 1937 [at the height of Stalin's repression], Mir Jafar Baghirov [Stalin's right-hand man in Azerbaijan] called Sarabski to come to him immediately. So Sarabski went to Mir Jafar and they sat and talked. Mir Jafar liked Sarabski very much. That's why he didn't think about killing Sarabski during the Repression when many intellectuals and cultured people were exiled or executed all over the Soviet Union. While they were talking, Mir Jafar also called Uzeyir Hajibeyov and they started talking. After awhile, Mir Jafar dismissed Uzeyir and told him that he could leave.

So Uzeyir left, and Sarabski was alone again with Mir Jafar, who asked him: "Hey, Huseingulu, what do you think?" And Mir Jafar made a gesture [thumbs down] like "should we get rid of him?" And Sarabski answered like, "Agha (Mister), What are you talking about? We are preparing for the 'Decade of Azerbaijani Music' [1938] in Moscow and all responsibilities for this event lie on Uzeyir's shoulders. He's the one who has created the choir, the orchestra. He has brought together all the saz players and the tar players.

"If you think that we should get rid of him, it means we won't be able to go to the 'Decade'. If you are planning Azerbaijan go to the event, please, don't get rid of him". Mir Jafar looked at Sarabski and then replied: "Ok, I won't. You can go now, too". So Sarabski rescued Uzeyir. This was 1937.

Stalin liked Uzeyir Hajibeyov's comedy, "Arshin Mal Alan" [The Cloth Peddler which was composed in1908] and that's why he had asked the Azerbaijani musicians to prepare "Arshin Mal Alan" for the Moscow event. [Uzeyir also had just completed the opera "Koroghlu" (Son of a Blind Man) to be performed at the "Decade" as well].

People used to say that Hajibeyov didn't take his street clothes off to sleep because he was so afraid that he would be arrested at night-that's when they used to come and make the arrests. That's why he tried to be as careful as he could.

Hajibeyov lived under the threat of repression because his brother Jeyhun was living abroad. [In 1919, Jeyhun had accompanied representatives of the Azerbaijan Democratic Republic (ADR) to Paris in relationship to the signing of the Versailles Treaty after World War I and for the purpose of trying to get the European and international community to recognize the independence of this new, but what turned out to be short-lived, Republic of Azerbaijan (1918-1920). But before the Azerbaijani diplomats in France could return to Baku, the Bolsheviks took over control in 1920 and Jeyhun feared for his life if he returned. So he lived out the rest of his life in exile in France. But for Uzeyir to have such a close relative living abroad, endangered his life.]

[Sana Baghirov speaking, Rugiyya's step-daughter] Moreover, Uzeyir was in opposition to the Soviet regime. That was the main reason. The same was with my parents. When my father was a diplomat and worked in Moscow in the Ministry of Foreign Affairs in 40s, he never took off his clothes after he came home just so he could be ready if they came after him simply because my parents' relatives were living in Iran. My mother was not allowed to maintain contacts with those relatives after she left Iran herself.

Rugiyya: I'll tell you a story and you will understand how dangerous those years were back then. How many people, how many genius musicians, intellectuals were killed. Uzeyir was conscious that such a situation could happen to him, too. Had Sarabski not answered Mir Jafar like he had, Uzeyir would have been arrested, and no one would have known where he had disappeared to. Fortunately, it ended differently.

Pressure from Fear
But from all that pressure, Uzeyir suffered physically. He got eczema. His hands started inching. Then he got diabetes. He was genius, he knew chemistry, medical sciences. He didn't like our doctors at all. He was complaining all the time that our doctors were not able to cure him. He used to try to treat himself, but unfortunately back in those days, people didn't understand diabetes very well.

After the 1920s, less attention was paid to Hajibeyov's operas, like "Leyli and Majnun" which had been composed before the Soviet regime, but his musicals remained very popular (Arshin Mal Alan, O Olmasin Bu Olsun). Some people criticized some of his operas, saying that those topics were out of date and new more contemporary themes should be found and the style should be more European.

Hajibeyov's Final Days
In 1948 his condition was very bad and in summer he was brought to Baku almost in a semi-conscious state from Moscow. He was taken directly to Mardakan, a sanatorium near the sea on the Absheron Peninsula outside of Baku. There he stayed with his wife, Maleyka.

My sister Aghabaji couldn't bear this situation, she couldn't take Hajibeyov being ill. She used to cry a lot. And Ramazan Khalilov, Hajibeyov's close relative and assistant [and later executor of his will and director of the Uzeyir Hajibeyov Home Museum] suggested that Aghabaji go to Mardakan for a vacation, but none of us knew that Hajibeyov was staying at the sanatorium there in Mardakan.

Hajibeyov was a victim of doctors, he was treated the wrong way. When Hajibeyov's situation got very bad, they said that they couldn't do anything for him. So Hajibeyov was taken to Moscow, but you know, by that time, Hajibeyov's condition had deteriorated so much that the Russian doctors couldn't do anything either.

Reyhan khanim, Hajibeyov's niece by marriage, was a doctor at the sanatorium in Absheron where Aghabaji went for a rest. Reyhan secretly told her that Hajibeyov was staying there, too. Aghabaji said that she wanted to see him, but Reyhan answered that no one was allowed to meet him. But my sister pleased and said that if she didn't get to see Uzeyir, she would die. So Reyhan khanim got permission and Aghabaji went to see him.

She was beside herself with excitement about seeing him , but when he appeared she hardly recognized him. He had changed a lot-his face, his shape, everything. But he was still as nice as always. They talked a little while, and he asked about their classes like "How your classes going on?" Aghabaji lied, telling him that everything was all right. But, in fact, that wasn't true.

Hajibeyov had opened the National Music Department at the Conservatory, but after he had become ill and left the Conservatory, Gara Garayev closed that department saying that it wasn't needed anymore. Aghabaji got to be with Uzeyir for just five minutes.

After some time, Hajibeyov's situation worsened. On November 23, 1948, he passed away. His body was carried to the Academy of Sciences Building. The funeral took place the following day. All the people in Baku and many from throughout the country came to pay their respects to him for the last time. There were such very long lines of people in the street. I also was there, too. I saw his wife Maleyka, and Hajibeyov's two sisters. My sister Aghabaji managed to get close to his coffin.

Uzeyir Hajibeyov is buried in "Fakri Khiyaban" (Cemetery of the Honore Ones) opposite the KGB Building in Baku. His wife Maleyka is buried beside him.

______

Rugiyya Rezayeva has written more than 10 articles about Uzeyir Hajibeyov, some of which have been published. All of them are kept in the archives of the Uzeyir Hajibeyov Home Museum in Baku. Also she has published a book about her grandfather the famous tarist Mirza Faraj. She thinks it was her work and her memory that has helped her to live so long. Already she is 86 years [as of August 2002].





© Azerbaijan International. Copyright 2002. All rights reserved.