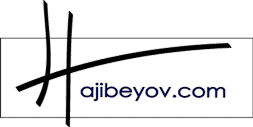 Memories of Uzeyir Hajibeyov
Shovkat Mammadova







Courtesy: Hajibeyov Home Museum, Baku. Director Saadat Garabaghli.

(In 1912, Shovkat Mammadova, 15 years old at the time, was the first female to perform on stage in Azerbaijan. In addition, she didn't wear a veil. It was still too early for such progressive action and she was run out the back door of the theater. It was Uzeyir Hajibeyov's idea to get her to perform this recital so that she could raise funds to continue her opera training in Italy.
__________

When I recall my first meeting with him during the revolutionary years of the czar, I bow again before the unforgettable image of Uzeyir ­ a man who dearly loved his nation and a patriot who devoted his life to his nation.

My first meeting with Uzeyir in 1912 left a deep impression on me. When he discovered that I was in Baku, he participated closely in my destiny. Uzeyir, who was encouraged by the success of his own music works, took manuscripts of his latest works and made me acquainted with his creative plans. It was a very genuine meeting together. As soon as he heard that I had had to discontinue my music classes because of financial problems, he suggested that we perform a recital and with the money collected, I would be able to continue my education. I can never forget those sincere moments. Sensitive Uzeyir gave me his helping hand during the most difficult moments of my life.

We were destined to meet again during the Soviet years in Azerbaijan. I met with Uzeyir again when for the first time I was performing the role of Gulchohra in "Arshin Mal Alan" in Baku Women's Club. Here he told me many positive remarks about my performance. His sincere praises encouraged me and gave me so much inspiration for my future activity. My friendship with my teacher, sensitive and kind Uzeyir, began from that moment onwards. It continued for 30 years.

From the very first day of the establishment of Azerbaijan State Conservatory [now Academy of Music], in addition to contributing to the development of young specialists, Uzeyir was taking care of us teachers, too.

Uzeyir's kind recommendations to develop the best music specialists of our times became a kind of life motto for us teachers.

1948
__________

"Memory of a Composer", Articles and Recollections. Compiler: Ahmad Isazade. Pages 44-45. Azerbaijan State Publishing House. Baku, 1976.

Translated and typed by Farida Sadikhova.

More about Shovkat Mammadova
Shovkat Mammadova, Audacious Challenge: The First Azerbaijani Woman on Stage
AI Winter 1997 (5.4)





© Azerbaijan International. All rights reserved.