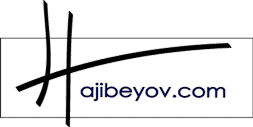 Reminscences of Uzeyir Hajibeyov
Interview with Adila Huseinzade Hajiagha gizi (born 1916)

Adila Huseinzade is one of few students still living in 2001 who had studied under Hajibeyov
This interview was conducted by Betty Blair, Editor of Azerbaijan International magazine
On September 26, 2001

Bulbul School teacher Nargiz Shafiyeva also participated in the discussion
Translated and transcribed by Gulnar Aydamirova, AI Staff
_____
In 1923, when I was seven, my father took me and my sister to the new technical college that Uzeyir Hajibeyov had just opened. We took piano classes there. First I was in Jenevskaya's class and then in Eizberg's.// He was from Tbilisi. This was just a music school. I attended regular school at the same time.
Why did your family decide to put you in music school?
My parents loved music. My mother could play the garmon very well. At that time, women still used to wear chadors [veils], but my mother never wore one.
Music was always respected in our family. My brother played violin in Britanitsky's class. He completed violin class at the Technical College and enrolled in the Art School named after Azim Azimzade. He also went to Russian "Realni" school. He was talented in both violin and art, so he didn't know which of the two to choose. Then the government sent him to Leningrad on scholarship where he graduated from the Art Academy there.
I was three years younger than my sister, but at school I was only a year behind her. I used to cry when she went to school, so her teacher allowed me to come and sit with her in her classes. I was able to pick up everything, so they moved me to a higher grade. After graduation, I entered the Academy of Oil and Chemistry and became an engineer. I loved mathematics and had graduated from the Technical College with all "A"s, so I was accepted to the Academy of Oil and Chemistry without taking entrance exams.
But then you made career out of music?
I got married in 1934. My husband was a chemist, a Candidate of Sciences [roughly equivalent to a doctorate degree in Western academic terms]. I already had three children by the times I finished the Academy of Oil and Chemistry. This child was born in 1939, and at the same time I was appointed to a plant to work. But since I had a newborn baby [as the maternity law allowed], I stayed home for three years. During those three years I always thought about why I had left music. I was singing at home, so I knew that I had a good voice.
One day I went to the Conservatory and asked Uzeyir Hajibeyov to listen to my singing. He called his secretary and told her to set up a meeting with some teachers for the following day. They were going to listen to my singing. I sang, and they all liked my voice. They said it was a rare voice-a mezzo-soprano- and that I should study at the Conservatory. Uzeyir Hajibeyov was very glad. I began studying at the vocal department of the Conservatory. At first, I took Kolotova's class and then later Bulbul's.
When did you meet Uzeyir Hajibeyov for the first time?
As I said, we were studying at the Technical College he had opened, and he was the director there. My parents would go there to see how we were doing. They knew Hajibeyov.
Also, one summer when we were staying at our country house in Shuvalan [on the Absheron Peninsula not too far from Baku], Hajibeyov came to our place. I was studying at the Oil and Chemistry Academy at the time. My sister came running and told us that Uzeyir Hajibeyov was coming in the direction of our house with several people. We all went out to meet him. My dad went up to him and said he was glad to see him at his place. He invited Hajibeyov to come in, but Hajibeyov said that he was actually looking for a room to rent. He was working on the fourth act of "Koroghlu" at the time and wanted a quiet place to rest in the evenings.
On the opposite end of our garden, there was a small house with two rooms and a kitchen. It had many trees in front of it. My dad showed Hajibeyov that house, and he liked it a lot. So he stayed at our place that summer. He would go to work in the city during the day and return there in the evenings. Maleyka khanim his wife was there, too. Every evening, the kids would gather and sing and just rest.
Hajibeyov wanted to pay rent to my father. He tried again and again, but my father had such a deep respect for Hajibeyov and, of course, wouldn't accept any money. And do you know what Hajibeyov did then? One day we saw electricians working near our country house and asked what they were doing. They told us that Hajibeyov had told them to work there so that we and our neighbors could have electric lights at home. We didn't have electricity there back then. So that's what he did to make our lives more easy.
Did you have a piano in your house?
No, the kids would just sing in the evening and Hajibeyov would rest. As for himself he would always think about his opera and write it in the city. He would work during the day, and then every evening he would come back to rest and stay at the country house.
In 1942 I entered the vocal faculty of the Conservatory. I studied there for a year. During that year, I always saw this short girl hanging around Uzeyir Hajibeyov. I found out that she was Aghabaji Rezayeva, one of his composition students. Well that was news to me-Was it possible for a woman to become a composer?
I went home and began looking through books and magazines. At last, I found a poem by Ismayil Soltan that I really liked. It was called "Memory". It was about a boy who goes off to war and asks his beloved to give him some kind of memory. She says that he can take her love as a memory and fight the enemy bravely. I liked that poem and began writing music to it.
After it was finished, in 1943, I brought it to the Conservatory to show to Hajibeyov. I went and stood at his door but hesitated to go in. Just then, Shovkat Mammadova [first Azerbaijani opera singer and esteemed professor at the Conservatory] saw me standing there. She was the headmaster of the Vocal Department and knew me. She asked what I was doing there and I told her. Just when I said this, she opened the door to Hajibeyov's office, gave me a push into Hajibeyov's office and asked him to listen to the musical piece I had written. So I had no choice but to go on in and play it for him. Hajibeyov told me to be comfortable and play my piece. His office was very large. His desk was on one end of the room, and his piano on the other.
So I played and sang the "Memory" romance I had written. After I finished, I turned to look at Hajibeyov. He was very calm and just sat there stroking his mustache. He was quiet for some time and then he asked me to play it again. So I did and again I turned to look at him. He was in the same pose. He asked me to play it a third time. After I played it again, he told me to come and sit near him. He told me that beginning the next day, he wanted me to start attending his composition class.
So I began studying both voice and composition. We had four classes a week with Uzeyir Hajibeyov. Two of them were private sessions with Hajibeyov, and two of them were with the whole group. I was taking Bulbul's [famous mugham singer] class, too, and would go to his house. He knew that after his class I had to go to Hajibeyov's class, so that's why he would teach me first. All of the other students would be waiting there. A very talented pianist named Vladimir Kozlov accompanied us during Bulbul's classes. So after the class at Bulbul's house, I would go to the Conservatory for Hajibeyov's class.
Now let me tell you what kind of person Uzeyir Hajibeyov was. He was sent from above for the Azerbaijani nation. You can even call him a prophet. I can't express it with words. You had to see him to understand what kind of person he was. He was like a father who takes his child by the hand and teaches him or her to walk. Hajibeyov took all of the Azerbaijani children by the hand and gave them elementary, then secondary and higher musical education. All of the composers were his children. Even though he didn't have any children of his own, we felt like we were all his children. We didn't call him "Uzeyir bey"; we called him "Uzeyir emi" (Uncle Uzeyir). He would always address me as "Gizim" (my daughter). He was like a father to all of us. He was a father to the whole nation.
Hajibeyov would come to the Conservatory at 10 a.m. every day and close his office at 10 p.m. If I had a class from 8 to 10 p.m., he wouldn't let me go home alone. Those were difficult times. It was wartime and therefore dangerous to walk in the streets at night alone. So Hajibeyov would close his office and we would leave together. But every time, all of the students at the Conservatory would be waiting to say good night to him. I remember that we would be surrounded by students, and we had to push our way out. Hajibeyov would push his way through them and talk to almost everybody. He would say things like: "You didn't get your scholarship this month. I organized it, so don't worry, you'll get it next month." Or he would say, "How's your mother now? She was ill, so I told the doctor to go and check her. Is she feeling better now?" He would help everybody like that. He would walk down the stairs talking to the students. And then after we dropped him off at his house, he would tell his driver to take me home.
Was he a strict teacher?
Yes, he was very strict. He was as a man of principle, as kind he was. Several times I saw him get really mad while talking on the phone. Normally, he was a very calm person, so someone would have to do something very bad to make him get so mad. He would only get mad if something was done against his nation. For instance, one time they wanted to abolish the tar. Things like that.
He was trying so hard to keep the traditional Azerbaijani instruments in the orchestra.
We studied mugham and its modes at the Conservatory. The best tar player in Azerbaijan, Mirza Mansur, was our teacher. He played mugham on the tar, and we had to play it on the piano and then take exams. As we learned the mughams, we were taught to write small musical pieces, sonatas, based on mugham. Or sometimes we were given a musical piece by Mozart and told to write a mugham piece based on that piece's pattern.
One time, as I entered the classroom, Hajibeyov stood up and walked toward me with a book in his hand. He could have sat and waited for me, but he was a very unique person. He told me that he had found a very good poem for me by Nigar Rafibeyli [poet and wife of Reza Rezayev and mother of contemporary writer, Anar]. It was written in the form of questions and answers. Hajibeyov told me he wanted me to write the music to this poem. To tell you the truth, I never liked anybody giving me poems. I wanted to always choose poems for myself. But how could I say anything to Hajibeyov.
The poem consisted of three couplets. He told me to write the first couplet in Seygah mode, the questions of the second couplet in Seygah and the answers in Bayati-Shiraz, and then the questions of the third couplet in Seygah and the answers in Rast. I wrote down his instructions and felt a little confused and disappointed. I was afraid I wouldn't be able to do it. But when I went home and began working on it, I saw how right Hajibeyov was. It was like he knew exactly that those words would perfectly fit the mood of Seygah.
So I wrote the music. Then Hajibeyov called Bulbul and told him to listen to me sing my piece, and then if Bulbul liked it, he could sing it. Bulbul liked it very much, so it was scored for orchestra. I didn't arrange it since I didn't know how to do that then. That musical piece became quite popular afterward and was performed at many government meetings.
Once Hajibeyov called and told me he would like me to sing Asya's part in the "Arshin Mal Alan" movie. I knew the piece. It was "Gozalim, yar, gozalim" (My Beautiful, My Beloved One). We had studied it in Bulbul's class. Hajibeyov told me to arrive at the studio at a specific time. Niyazi would be waiting for me there to record the music. Before I went into the room where Niyazi was waiting, I was told that it would take many hours and that I'd have to sing it many times. But when I went in, Niyazi listened to my singing once and said that we were ready to record.
Later, we watched the movie. The governmental committee was there, too. We students would always sit close to Hajibeyov. I was sitting behind him in the second row. After we watched the movie, he turned around and told me he liked Asya's singing better than anyone else's. That was like giving me wings.
This was the recording with Rashid Behbudov and Leyla Badirbeyli, for the movie that was filmed in 1945. But I wasn't playing Asya's part. The voice was mine, but a different person played the role.
My daughter studied piano at Bulbul School. One day when she was going to Bulbul School, she met Uzeyir Hajibeyov and Aghabaji Rezayeva as they were leaving the school. When she saw Aghabaji, my daughter went up to her and kissed and hugged her. Hajibeyov asked who she was, and Aghabaji told him that she was my daughter. Hajibeyov asked my daughter where she was going, and she told him that she was going to give something to her teacher. Hajibeyov told my daughter that they would be waiting for her down the hall. After my daughter came back, Hajibeyov put her and Aghabaji in his car and told his driver to take both of them to their homes. That was how Hajibeyov was.
Hajibeyov's creative work was very prolific at the beginning of the century. But then there seems to be a 15-year gap until the 1930s, during which he seems to have done nothing.
Nargiz Shafiyeva: No, he wrote works during that period. For instance, there were his chamber instrumental works, and "Jangi" [War] in the 1940s. Besides, he was doing research on mugham and modes. That's the main thing. That was a new page in the development of scientific study of mugham.
Adila: In his book called "The Principles of Azerbaijani Folk Music," Hajibeyov described the principles of mughams that have existed for thousands of years. He was the first to do so. It took him 20 years to write that book. He would say that the Rast, Shur and Segah mughams were brothers.
Nargiz Shafiyeva: He showed the theoretical basis of our mughams. He showed our modes and the relationship between them. All of our music is based on these modes. There have been Azerbaijani theoretical musicians, for example, in the 13th and 14th centuries there was Safiaddin Urmavi and Abdulgadir Maraghayi, and in the 19th century, there was Mir Mohsun Navvab. But Hajibeyov opened up a new page in music theory. He said that the system of mugham and the system of modes were the same thing. He said that he took the mode system from the mugham system, because mugham reflects all the rules of the mode.
Gulnar Aydamirova: Is this like major or minor?
Nargiz Shafiyeva: No, those are European modes. There are only two European modes, but there are seven main Azerbaijani modes and many, many others. It's a deep ocean. Hajibeyov said in his article in 1934 that he used the mugham system to create the mode system. Mugham is a genre, but all of the rules and principles of Azerbaijani modes are reflected here. It's like a mirror.
He worked on that book for 25 years. And even before that, he did a lot of preparation. You can see this development in his works. The opera "Koroghlu" is the result of all of his work.
Adila: He always told us to use mugham whenever we composed, no matter if it was a symphony, opera or sonata. He would say that mugham was an ocean.
Nargiz Shafiyeva: From medieval times, the word "mugham" had several meanings. Mugham also meant mode, form, genre, literary source and philosophical platform. But in the 20th century, notions like genre and mugham were typically divided in music studies.
Gulnar Aydamirova: Did anybody continue the work that Uzeyir Hajibeyov did?
Nargiz Shafiyeva: There's one thing about his book; you have to accept the rules there as an axiom. If you don't, you have to prove that you're right. And most people accept that book. That's why there aren't many commentaries on it. But we analyze and apply it. At the same time, we decode it.
Adila: You can compose based on that book.
Nargiz Shafiyeva: There's a methodology in that book about how to compose in modes. But Hajibeyov doesn't use too many words there. His language is short and axiomatic. Now we need to decode it and see what Hajibeyov means. He has a lot of coded ideas there that need to be explained
But as for composing something, there's a methodology there. Let's say I want to compose something is Rast. I can look it up in that book. Hajibeyov gives the national rhythmic characteristics and chromatics of all the seven modes. The book is very thin. But if a modern person wrote such a book, he would probably write it in several volumes.
Are you teaching this book at Bulbul School?
I have taught based on that book.
Nargiz Shafiyeva: I've written the methodology of how to teach using this book. And now other teachers as well as myself use that method of teaching.
If you had to name one thing that Hajibeyov was great for, what would you say?
"Koroghlu" of course. "Sevgili Janan." "Firuze." I can't name just one.
Nargiz Shafiyeva: What about "Arshin Mal Alan"? Or "Ashigsayaghi"-the first chamber instrumental work? It's like a pearl. It's a trio for piano, cello and violin, but I've arranged it for piano. Gara Garayev did the transcription for orchestra. Hajibeyov composed it in 1929.
Adila: I couldn't sit still at the "Koroghlu" premiere. It was first performed in 1937 at the Opera and Ballet Theater-the happiest day of my life. I was sitting in the front row, and I was jumping up from my seat all the time. The stage was on fire. Ismayil Hidayatzade staged it. You had to see it. You had to see how Bulbul and Gamar Almaszade played their roles. I felt like I would go out of my mind. It's impossible to express. Everything was moving on the stage. Niyazi was conducting. Sometimes Niyazi would turn his head back to look at me as if I were going crazy. Because I couldn't sit still. But I wasn't the only one. The audience was constantly applauding. And then Bulbul came riding in on a real horse. There was no other staging that had ever taken place like that.
Nargiz Shafiyeva: Then it was performed in Moscow at the "Decade of Azerbaijani Culture" in 1938. All of the government officials were there, including Stalin. Stalin liked it so much that he made them play it a second time. Stalin liked Hajibeyov's work very much, especially "Koroghlu." He even ordered that the movie "Arshin Mal Alan" be filmed in 1945. He insisted on that.
Adila: Stalin asked Hajibeyov if he was a member of the Communist Party. Hajibeyov said no. Stalin replied that he would give him a recommendation. So the next day, when Hajibeyov arrived in Baku, he was given a Party membership card. [Such occasions were unheard of because to become a Party member required years of process].
Nargiz Shafiyeva: They didn't write about such things. But we know from people who were close to him that Stalin loved his works.
What was Hajibeyov's funeral like?
I was there. His body was laid on exhibit there in the hall of the Academy of Science. The whole place was covered in flowers. There were so very many people there. We, his students, stood watch by his body for three days. We didn't even go home. People would come in to pay their respects from the morning until very late at night. You could see all kinds of people there. There were people who were dressed so poorly, almost in rags, who had nothing to do with music, the rich, the academicians, the military men. I mean all kinds of people. And we students stood watch like honorary guards.
Bulbul sang "Sansiz"(Without You) from upstairs in the hall, and all the people there were crying. When they took the body away, I couldn't push my way through. There were people everywhere outside-on the roofs, streets, walls-everywhere. I was left behind. I cried very bitterly because I couldn't go. They carried his body to the graveyard on foot. [Cemetery of the Honored Ones]
Nargiz Shafiyeva: People came from all of the regions of Azerbaijan. They were there for three days. Some of them had no place to stay in Baku, so they slept in the Sabir garden right next to the Academy building. It was November 23-25 and very cold. But even so, all those people stayed for three days to see Uzeyir Hajibeyov off on his last trip. He died November 23rd and was buried November 25th.

Home | Music | Librettos | Biography | Writings | Discussions
Links | About Us | Contact Us | Store

© Azerbaijan International. Copyright 2002. All rights reserved.