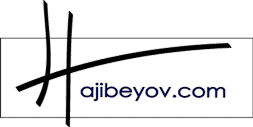 Tofig Bakikhanov, 71, Composer
Reflects on Uzeyir Hajibeyov



Interviewed by Gulnar Aydamirova
December 21, 2001





I was born into a music family. My father Ahmad Bakikhanov was awarded the honor "People's Artist" and "Honored Teacher". In my childhood I met so many famous musicians in our home - Jabbar Garyaghdioglu, Seyid Shushinski, Gurban Pirimov and many others.

The genius composer Uzeyir Hajibeyov was our neighbor and my father was very close to him. They even used to go to work together. At that time they worked at Art Technical School. For its 30th Jubilee, Uzeyir Hajibeyov was the head of the department of "Traditional Music Instruments". And my father was an instructor of that department.

Let me tell you how they met each other. When Uzeyir Hajibeyov was working on his opera "Koroghlu" [1932-1937], he was looking for a person who knew the mugham known as "Nava" - which is an forgettable mode. It used to be very famous in the14th century but as time passed, this mugham lost its popularity and was replaced by the mugham Shur.

Hajibeyov heard that my father Ahmad Bakikhanov was the only person who knew that mugham. He contacted my father and asked him if he could play Nava. After listening to him, he said: "I've found the person that I was looking for."

Then Hajibeyov invited father to teach mugham at Music Conservatory [now Academy] in Baku. That was about 1929. So they became close friends. Once he advised my father that his children (meaning me and my brother Mammadreza) should play Western musical instruments. "You have enough students playing traditional musical instruments. Encourage your own children to learn to play Western instruments. One should play the piano, the other, the violin," he told my father.

It was this recommendation that shaped my future career. For 10 years I took violin class from a teacher called Timbro. Hajibeyov attended each of my recitals and gave his comments about them.

And I played his work - Arshin Mal Alan - in the Symphonic Orchestra at his 60th Jubilee. For that occasion, a professor from Moscow Art University, was invited to conduct the orchestra.

When Uzeyir Hajibeyov was Rector of the conservatory, I enrolled three as a student but he didn't live long after this. In November1948, he passed away. I received an honorarium named after Uzeyir Hajibeyov for being an excellent student.

Our family is also deeply indebted to Uzeyir Hajibeyov in another way. When I speak about him I feel so good, but at the same time it makes me very sad. In1938, you know, it was during Stalin's Represson, my father and uncle were arrested. My mother asked Hajibeyov what they were guilty of because we didn't know why they had been arrested. Hajibeyov asked my mom if anything had been written in the NKVD (trial paper at the period of repression). But there was nothing written there.

Then Hajibeyov told her that after two days he would be traveling by train to Mocow along with Mir Jafar Baghirov [Stalin's right hand man in Azerbaijan]. He promised to talk to him about these arrests while being together with him there on the train. And he did.

When Uzeyir Hajibeyov asked about Ahmad Bakikhanov, Mir Jafar couldn't remember him. Then Uzeyir introduced him as a left-handed Ahmad as my father known for being left-handed.

While Baghirov was still in Moscow, he called his secretary in Azerbaijan and ordered that my father and uncle be discharged. So I want to emphasize the closeness of Hajibeyov to my family. He was as personally interested in my studies as my father was. When he was in Moscow, he used to send us gifts. Now we often go to Uzeyir Hajibeyov's grave to remember him.

I would say that Hajibeyov is not only a composer of Azerbaijan. He belongs to the whole world because he was the composer of the first opera in Azerbaijan. His works should be protected and respected. The young generation should know all his works. Lately I have noticed that on television not very much time is given to the shows about him.

His masterpiece is Koroghlu. It is really a priceless work. It was performed by very talented actors like Bul-Bul, Lutfiyar Imanov and others. I would rather have these programs on the television periodically. Also his works were written for popular musical instruments. He has two Fantasies as well as some patriotic songs. They really should be played on television.




© Azerbaijan International. Copyright 2001-2002. All rights reserved.