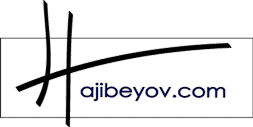 I Loved Gulchohra With All My Heart
Leyla Badirbeyli, Soloist




Courtesy: Hajibeyov Home Museum, Baku.

The year was1938. Preparations for the "Ten Days of Azerbaijan Arts" was to be held in Moscow. At that time, I was a soloist with the Azerbaijan State Philharmonic. Uzeyir Hajibeyov was the head of a committee on organizational works of the ensemble of singing and dancing. He was paying close attention to the form, decorations, and style of the national costumes for the dancers. He would put chains on the dress in order, show how to wear them, talk about the beauty of Azerbaijani national clothes with pride, and insist that we protect the national values.

During one of the rehearsals of the "Ten Days", Hajibeyov interrupted one of the folk soloists who was trying to change the song. He criticized him, "What are you doing? You're spoiling the song" The soloist got embarrassed and answered, "I wanted to give a new form to the song, to make it more lively." Uzeyir said, "This is a folk song. It has enough charm and beauty by itself. Our music needs development. But I won't tolerate it being changed."

I don't know anybody who didn't admire Uzeyir Hajibeyov. He had a unique and divine personality. He who sees only the best in everything and everybody gains eternity. Uzeyir was that kind of person. He was harsh on people who looked for ugliness in beauty, for bad in the good, for darkness in light. Sincere, big-hearted, caring, simple and generous ­ this is how I always remember Uzeyir.

Though Uzeyir appeared very serious, he had a keen sense of humor. In 1944 during the "Ten Days of Transcaucasian Art Festival" was held in Tbilisi, Azerbaijani arts people were very successful. Everybody was happy; most of all, Uzeyir.

At the final concert, the audience greeted our actors and culture people with storms of applause. Of course, the greatest applause went to Uzeyir. You can't imagine how embarrassed he wwould get, and how he tried to hide back and push his friends forward. When Uzeyir was offered a seat on the front row, he called us and said, "Girls, sit here so that I can see you. This is Georgia, they can kidnap you here" ­ and then he smiled. Our beloved singer Sara Gadimova and I still remember and laugh about that incident.

Another memory. The year was 1945. Preparations were being made for the movie version of the musical comedy "Arshin Mal Alan". I was going to play Gulchohra in it. I had been practicing the Arias with the Directory of the orchestra for a long time. Maestro Niyazi was supervising all this. One day without letting my dear teacher and supervisor Reza Tahmasib know, I went to Uzeyir's place. I still don't know why. The composer's close relative Tamara khanim opened the door. I told her that I wanted to see Uzeyir. A few minutes later, the composer received me in a lit room. He was dressed in a clean white shirt.

I forgot how and why I had come. I felt like everything was blown away from my head. I hardly was able to collect myself and I told him, "I am going to play Gulchohra. That's why I came." My mouth became dry, and I couldn't add anything more. He looked at me attentively, thinking of something and as usual made that habitual gesture of stroking his moustache.

"I don't object to your playing, but you know, it's not a dance, it's the development of a character in the movie." Then he became silent. A little afterwards, he talked about how he would like to see Gulchohra, and also about characteristics of an Azerbaijani girl. Of course, before this meeting I had talked many times with the director about the character. In spite of all this, after the conversation with a great composer, I got encouraged and felt more confident. When saying good-bye, he accompanied me to the corridor and said, "I love Gulchohra very much, and I want you to love her with all your heart, too."

Indeed, I did love Gulchohra with all my heart.

1975
__________

"Memory of a Composer", Articles and recollections. Compiler: Ahmad Isazade. Pages 109-111. Azerbaijan State Publishing House. Baku-1976.

Translated and typed by Farida Sadikhova. Edited by Betty Blair.





© Azerbaijan International. Copyright 2001. All rights reserved.