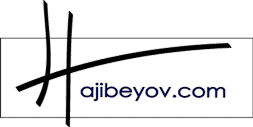 Hajibeyov as Virtuoso
Afrasiyab Badalbeyli, Composer



From "Memory of a Composer - Articles and Recollections", compiled by Ahmad Isazade. Azerbaijan State Publishing House. Baku: 1976, pages 51-53. Translated by Farida Sadikhova. Edited in English by Betty Blair. Afrasiyab was a second cousin to Uzeyir Hajibeyov. His grandmother was a sister to Uzeyir's mother, Shirin Aliverdibeyova.


Just like many other people my age, when I consider that I was a contemporary of the great classic of Azerbaijani music, Uzeyir Hajibeyov, and that I met and spoke with him personally, I get strangely excited. When you say, "Classical Music of Azerbaijan", you imagine Safiaddin Urmavi or Abdulgafur Maraghi who were wearing long robes and turbans on their heads. The appearance that we associate with them reminds us of the statues and monuments dedicated to Nizami and Fuzuli. They are extraordinary people but unapproachable, inaccessible personalities. But Uzeyir was a "classic" in a complete different sense.
In the article "Leyli and Majnun's Place in the History of Azerbaijani Music", which I published in "Khabarlar" (News) of the Academy of Sciences of Azerbaijan SSR when Uzeyir Havibeyov was still alive (in 1945), I wrote that Uzeyir bey had the honor of seeing himself as a renowned classic of his nation. Looks like every nation has bestowed geniuses to certain periods of their own history ­ Maxim Gorki, Rabindranat Tagor, Sibelius
In everyday life, Uzeyir was very simple, jovial and affectionate. Having a keen ability of observation, he was lively company, and was vivid in his views and actions.
I was sitting next to Maleyka khanim, Uzeyir's wife, during the "Blue Light" party dedicated to his 80th Jubilee in School No. 190. We were recalling some of the events in the life of the composer. For example, I remembered how I had been their guest at the Tsemi resort in Georgia in 1925. After lunch members of the family had settled around the table and begun to discuss some materials related to harmony that Uzeyir had written the day before. (At that time Uzeyir bey was working hard on a textbook about harmony).
Muslim Magomayev's family had a dacha next to Hajibeyov's dacha. These brothers-in-law would sit in the shade of Uzeyir bey's favorite pine tree and talk about ways to develop Azerbaijani music in general, as well as the art of opera. Those talks were a continuation of the discussions that were being carried out in music circles and Baku's mass media. Yes, these two wonderful men never forgot about their native music, its current state as well as its future; those ideas were the basis of their lives which forever united their hearts.
When you remember the extraordinary kindness of this dear teacher, as well as his ability to extend his helping hand exactly at the right time, you think: "Such things cannot be forgotten!"
I'll never forget the speech he made in April 1940, a few days before the premiere of my ballet "Maiden's Tower" [First Ballet in Azerbaijan]. After he mentioned that nationalism was an integral part of art, he said that I had paved the way for these initiatives in classical ballet music. That I had managed to create traditional ballet forms such as waltz, adagio, solo variations in Azerbaijani music. On the occasion of performance of the "Maiden's Tower Ballet", Uzeyir Hajibeyov wrote in Pravda (newspaper): "The synthesis of classical ballet music and folk dance has entirely determined the content and style of the performance."
It was Uzeyir Hajibeyov who laid the basis for many of the genres of contemporary Azerbaijani music. Uzeyir Hajibeyov's immortal creative activity and his "Koroghlu" will repeatedly attract many composers for many generations to come. Uzeyir bey's experience and his school are good samples of the skillful synthesis of national background and progressiveness, democratization and virtuosity for the young composers.
1965

Home | Music | Librettos | Biography | Writings | Discussions
Links | About Us | Contact Us | Store

© Azerbaijan International. Copyright 2002. All rights reserved.