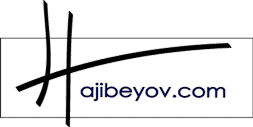 Memories of Hajibeyov
Gazanfar Alizade

Home | Music | Librettos | Biography | Writings | Discussions
Links | About Us | Contact Us | Store

Courtesy: Hajibeyov Home Museum, Baku.

In the declining years of life, you look for tranquility and rest. When you want to relax from the tiresome days, you fold your hands behind your head, sigh with relief, and think about the past and the people you've lost - the bad days and good days. In retrospect, you think about the good people who worked with you. You search for someone to pour your heart out to. You're afraid to take these memories to your grave as there are things that nobody knows except you. But if they know about them, that would be even better.

In 1945 Uzeyir Hajibeyov established the Institute of Architecture and Arts at the Azerbaijan Academy of Sciences. At that time the institution was named after him. Later on, the Institute did not have a name. So what? But people my age remember very well that that educational center was once called the Hajibeyov Institute.

Anyway, the Institute was established. They started to look for staff. Uzeyir invited me to join him. At that time there were only two departments: music and theater, painting and architecture. Uzeyir bey himself was heading the Department of Music and Theater. I became the head of the other department.

We didn't have enough young specialists. But could any one ever be bored when Uzeyir was there?

Some time later a lot of people came to our institute. Most of them are known in the Republic even today: Gubad Gasimov, Amina Eldarova, Mammadsaleh Ismayilov, and later on Bulbul, Gara Garayev and tens of others were invited to work in our institute. I worked as Uzeyir bey's Deputy till he died.

At that time I wouldn't have imagined that one day I would be sharing these memories. Especially about Uzeyir bey! Now I am gradually remembering those things that are past and gone. Uzeyir bey didn't like to waste his time. As soon as he went out to the street, you would see many people stop to look at him. When he came to the Academy, everybody would stand up and greet him. What do you think his reaction was to all this? You could see him smile, but in his heart he was embarrassed.

During those years we sometimes had to work at nights, too. Uzeyir bey wouldn't stay relaxed at home. He would come to the institute and gather young composers and musicians and talk to them. Nights were long, and talks were sweet.

Uzeyir bey liked the office in the Academy of Sciences so much. Sometimes he would jokingly say, "the window in the office opens right out on my home. That's why I am not worried about the house." There was a big piano in that room. Sometimes when he was tired from work, he would play to relax. He would do his scientific works here as well.

He would constantly talk about national art without getting tired. Then he would tell us his opinion about national construction and join the discussions with us. Why isn't national architecture applied in construction that is going on in the districts around Baku, and why are foreign elements dominating over national art?

He demanded a lot from us, and wanted to see all these things implemented. What could we do? We were just like toddlers leaning how to walk.

We loved Uzeyir bey. There was nothing mixed with that love. Neither fear of position, nor interest, or fame. We praised his works. Nobody wanted anything in exchange for that praise. Even his anger was pure. Uzeyir bey would care more about us than about himself. We didn't know if he was our father, brother, relative, acquaintance, friend, or a director, a leader.

Though he was the Director of the Institute, he was specially watching over the music department. He did everything to study folk music. He wanted to tour the country inch by inch to record original folk songs. For this reason, two rooms were allotted for the special laboratory. But Uzeyir bey could not carry out the recording project.

Uzeyir bey was ill. The day we all feared was approaching. Were we expecting this separation? Yes, we were. But we all grieved for him so greatly. What could be done? What could we do? The doctors didn't allow him to step out of the house. Uzeyir bey who was always with his staff, was now isolated and left alone. He would call to work every day to ask how the things were going on.

When he was ill in bed, I would often go to see him. We would talk. Since I was his Deputy, I would give him a report on things in the Institute. We were neighbors. As soon as it got quieter, we would start to talk. He would complain about the doctors a lot. He would jokingly say, "Comrade Gazanfar, what do these doctors want from me? Honest to God, I feel much better when I am with staff, than when I am home."

They say, before death, a sick man feels better. He talks and laughs with the people who visit him. Others feel that his death is near at hand. On realizing that he feels better, the sick man gets relieved and his desire to live increases. A month prior to his death, Uzeyir bey was feeling better. He even started to joke with us, "You know, Gazanfar, I feel good!"

He would so sweetly talk that we never knew how time passed. I used the chance of Uzeyir's feeling better and asked him, "Uzeyir bey, what do you think is your masterpiece is?

He stroked his moustache. Everybody was eager to hear the answer to this interesting question. But Uzeyir bey looked puzzled. I helped him, "Could it be that 'Mashadi Ibad' is your masterpiece?"

Uzeyir bey nodded in consent. Though I was satisfied with this answer, I got worried. What if Uzeyir confirmed my opinion just to please me? Up to this day, I consider Mashadi Ibad to be Uzeyir bey's masterpiece.

To bring up the conversation I asked Uzeyir again, "Why isn't the music you wrote for "Harun and Leyla" opera ever performed? What happened to that piece?" Uzeyir bey said that he had incorporated those melodies into his other operas and operettas.

1970
__________

"Memory of a Composer", Articles and recollections. Compiler: Ahmad Isazade. Pages 116-118. Azerbaijan State Publishing House. Baku-1976.

Translated and typed by Farida Sadikhova. Edited by Betty Blair.

Home | Music | Librettos | Biography | Writings | Discussions
Links | About Us | Contact Us | Store

© Azerbaijan International. Copyright 2001. All rights reserved.