Winter 1997 (5.4)
Music Runs in the Family
Famous Musical Families of Azerbaijan
by Farah Aliyeva
One of the distinguishing characteristics about Azerbaijani music is that so many families have made major contributions to the field. In fact, it's not an exaggeration to suggest that the sound of Azerbaijani music today with its synthesis of eastern and western elements would not have occurred outside of the phenomena of musical families, starting with the founder of composed music, Uzeyir Hajibeyov.

The following is a brief sketch of some of the most famous musical families.

Roots in Karabakh
Shusha, a small city in the western region of Azerbaijan in the Nagorno-Karabakh region, has long been considered one of the music centers of Azerbaijan. Sometimes, it is called "the Conservatory of the Caucasus." And this is another reason why the occupation of Shusha by Armenian military forces since 1992 has been particularly painful. Shusha is viewed as a cultural center of art, literature and especially music. Therefore, when people had to flee in the face of aggressive hostile troops, they left behind more than devasted homes and communities. Their musical environment was also one of the casualties of war. Many outstanding musical families living in Baku trace their origins to this region. In fact, there's an expression, "If you can't sing, you're not from Karabakh."

The environment of Shusha contributed greatly to the professional formation of three major families who form the cornerstone of composed music in Azerbaijan - the Hajibeyovs, Aliverdibeyovs and Badalbeyovs.

Hajibeyov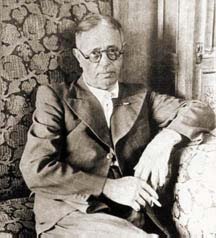 Uzeyir Hajibeyov is called the "Father of Classical Music" in Azerbaijan. His legacy is so great that a 300-page volume entitled "The Encyclopedia of Uzeyir Hajibeyov " has been published (1996). Essentially, every musician in Azerbaijan has directly benefitted from his work.

Hajibeyov was involved in the immense philosophical struggles that were going on at the beginning of the 20th century when intellectuals and musicians were fiercely debating the future direction of Azerbaijani music. Some wanted to cling to traditional modal music; while others were ready to discard the past and go on to embrace European music.

By synthesizing these two trends in his first opera -"Leyli and Majnun" (1908) - he set a precedent that has continued for nearly a century already. He was the first to produce an exotic synthesis by blending eastern traditional elements (melody, mode and instruments) with western style and form (opera, and to which other composers later added symphony, ballet, concerto and chamber orchestra, jazz, etc.).

He was one of the advocates for composed music and insisted, contrary to the common belief, that mugam music could, indeed, be set down in note form.

Hajibeyov is deeply loved in Azerbaijan. He is remembered most for his famous opera," Koroglu" (Blind Man's Son, 1937) and his musical comedy "Arshin Mal Alan" (The Cloth Peddler, 1913), which challenged social customs about the veiling of women and which has been made into a movie on five occasions.

Hajibeyov was involved with the establishment of the Music Conservatory, the Academy of Science, the Folk Instruments Ensemble and many other fundamental institutions that provide the foundation for a formal music infrastructure in Azerbaijan. He set forth the basic principles of Azerbaijani modal music (mugam) in his book, "The Basis of Folk Music in Azerbaijan" (1945). This text is also available in English. He was the recipient of the highest artistic awards, including the first Azerbaijani musician to be honored "People's Artist of the USSR."

Zulfugar Hajibeyov (1884-1950) was Uzeyir's brother. He was also a composer and was actively involved in establishing the Music Comedy Theater. He is remembered for composing the opera "Ashug Garib" (1916).

Jeyhun Hajibeyov (1891-1962) was Uzeyir's younger brother and a famous publicist, journalist and translator. Because he seriously opposed the establishment of Soviet power in Azerbaijan, he had to flee to France when the Soviet government was established in 1920. Jeyhun assisted Uzeyir in writing the opera " Leyli and Majnun," though his involvement was not always acknowledged because of his earlier political affiliations.

Soltan Hajibeyov (1919-1974) was the son of Ismayil Hajibeyov, Uzeyir 's uncle. Soltan was a composer who contributed greatly to the formation of national symphonic music of Azerbaijan. He is remembered for such works as "Caravan," "Overture" and "Concerto." Soltan served as rector of Azerbaijan State Conservatory (now Baku Music Academy) from 1969 to 1974.

Ismayil Hajibeyov (19 49- ) is Soltan's son and represents the third generation of the Hajibeyov family. Ismayil works in modern music, known in Azerbaijan as "yeni musiqi" (new music). He is an assistant professor of composition in the Academy of Music.

Niyazi Hajibeyov (1912-1984), son of Zulfugar Hajibeyov, was known simply by his first name Niyazi. He directed the Symphony Orchestra for about 40 years and was deeply loved and respected for his brilliant conducting and for his efforts to make Azerbaijani music known throughout the Soviet Union and beyond. Dmitri Shostakovich observed that Niyazi was the first world-renowned conductor of the Soviet East. Niyazi was the composer of the symphonic mugam "Rast" (1956) , the opera "Khosro and Shirin" (1940) and the ballet "Chitra," for which he was awarded the Nehru prize (1971) . He was also honored as "People's Artist of the USSR."

Aliverdibeyov Family
Aghalar Aliverdibeyov (1850-1953) was Uzeyir Hajibeyov's uncle on his mother's side. He was Uzeyir's first music teacher. Although Aghalar was an engineer, he devoted his entire life to music. He played tar extremely well and formally studied mugam. He wrote the first book about the music history of Azerbaijan.

Kazim and Nazim Aliverdibeyov, Aghalar 's sons, continued along their father's path. Nazim (1926-1985) was a well-known composer and teacher. He is especially remembered for writing "Organ Fantasy" based on Bayati-Shiraz Mugam. Kazim (1934-) is a conductor.

Badalbeyli Family
Badal Badalbeyli (1875-1932) and Uzeyir Hajibeyov were cousins since their mothers were sisters. The musical tradition of this family began with Badal and his brother Ahmad. Badal taught music and performed mugam operas.

Ahmad Badalbeyli (1884-1954), an opera singer, is known by the name Ahmad Aghdamski. He was one of the first vocalists to perform female roles because Muslim women were not permitted to perform publicly at that time.


| | |
| --- | --- |
| Shamsi Badalbeyli | Afrasiyab Badalbeyli |

Afrasiyab and Shamsi Badalbeyli, Badal's sons, contributed to the development of music theater in Azerbaijan. Afrasiyab (1907-1976) wrote the first ballet "Qiz Qalasi" (Maiden's Tower, 1940). Shamsi (1911-1986) directed Azerbaijani operas and operettas.

Farhad Badalbeyli (1947-), Shamsi's son, is currently rector of the Baku Music Academy. He has won a number of international piano competitions, taking third place at the Smetana International Music Competition in 1967 and first place at the J. Vianna de la Motta International Music Competition in Lisbon, Portugal, in 1968. His daughter is already an accomplished pianist who studies at the Bul-bul Music School.

More Families


| | |
| --- | --- |
| Vasif Adigozal | Yalchin Adigozalov |

Adigozalov

Zulfugar (Zulfi) Adigozalov (1898-1963) was a famous performer of folk music. His sons are Vasif Adigozal (1935-) and Rauf Adigozalov (194 0-). Vasif is a well-known composer who writes music for piano, symphony and chorus. Rauf is a popular singer and violin player.

Yalchin Adigozalov (1959-) is Vasif's son and represents the third gene ration of Adigozalovs. Yalchin directed the Azerbaijan State Symphonic Orchestra for the 1997 recording of "Classical Music of Azerbaijan," a collection of six CDs which was sponsored by Amoco and produced by Azerbaijan International. He has toured in the United States, Russia, Ukraine, Austria, Hungary and Turkey. In 1993, he was named "Best Conductor of the Year" in Azerbaijan.

Adigozalzade


| | |
| --- | --- |
| | Zohrab Adigozalzade (1940-) and his two sons, Farid (1964-) and Murad (1973-), are all three talented pianists. Farid won the Eighth Caucasian piano competition. Murad is a post graduate student at the Munich Conservatory (Germany) and was named "Best Pianist of the Year" in 1996 in Azerbaijan. |
Murad Adigozalzade
Alasgarov


| | |
| --- | --- |
| | Suleyman Alasgarov (1924-), a professor at the Academy of Music, is most famous for his very popular musical comedy "Ulduz." His sons, Arzu and Aiyub, are pianists and winners of international competitions. |

Amirov
Mashadi Jamil Amirov (1875-1928) was a famous tar player and singer. He performed in some of the mugam operas of Uzeyir Hajibeyov. He was the composer of the opera "Seyfelmulk" and the operetta "Honest Girl."

Fikrat Amirov (19 22 -1984), Mashadi Jamil's son, created a new genre called symphonic mugam. His most famous works include "Shur," "Kurd Afshari," "Gulustan Bayati -Shiraz," "Nizami" and the ballet "Arabian Nights" He was honored as "People's Artist of the USSR."

Jamil Amirov (1957-) is Fikrat's son and a third generation musician excelling both as a performer and composer.

Bakikhanov
Ahmad Bakikhanov ( 1892-1973 ) was one of the distinguished tar players. His residence is now home to his collection of Folk Instruments which is opened to the public.

Tofig Bakikhanov ( 1930-), Ahmad's son, is a composer and professor at the Academy of Music. He is remembered for his short ballet, called "Caspian Ballad."


Behbudov
Majid Behbudov (1870-1945) was a famous khanande (singer of mugams). He was especially adept at singing segah, shustar and chargah mugams. In 1914, he produced a record with the Riga Grammaphone Company in Latvia. He gave concerts in Tabriz, Istanbul and Sofia.

Rashid Behbudov (1915-1989) was Majid's son. Rashid was considered one of the greatest popular singers of the 20th century in Azerbaijan. He was famous for singing love songs, particularly those composed by Tofig Guliyev. His stardom began with the role of Askar, the rich merchant who disguises himself as a cloth merchant, in the 1945 movie version of Hajibeyov's music comedy " Arshin Mal Alan." Rashid toured many countries and knew more than 50 songs in foreign languages. He created the "Song Theater" in Baku which is named in his memory.

Rashida, a singer, is the daughter of Rashid and a member of the third generation.

Bulbul


| | |
| --- | --- |
| Bulbul | Polad Bulbul-oghlu |

Bulbul (1897-1961), whose real name is Murtuza Mammadov, holds a special place in the hearts of Azerbaijani musicians. "Bul-bul" means "nightingale," the bird credited with the most melodic song. Bul-bul founded the professional school of vocal singing. He is closely associated with the role of "Koroglu" (Blind Man's Son, 1937) in Uzeyir Hajibeyov's opera by the same name for which he was honored as "People's Artist of the USSR" in 1938.

This year, 1997, marked Bul-bul's 100th Jubilee. In honor of the occasion, the first "International Bul-bul Vocal Competition" was established. The contest lasted two weeks and 68 vocalists participated.

Polad Bulbul-oglu (1945-), Bul-bul's son, was one of the most famous singers of popular music in the former Soviet Union. He is also a talented composer and currently has been assigned as Minister of Culture in Azerbaijan.

Garayev
Gara Garayev (1918-1982), (spelled via Russian as Kara Karayev) a student of Shostakovich, based his music on the techniques established by Uzeyir Hajibeyov. He studied at the Moscow and Leningrad Conservatories. His world-famous ballets include "Seven Beauties" (1952), "The Path of Thunder" (1958), the symphonic picture "Don Quixote" and the symphonic poem "Leyli and Majnun." He was awarded "People's Artist of the USSR."

Faraj Garayev (1943-), Gara Garayev's son, is a representative of vanguard music and heads the "Yeni Musiqi" (New Music) Society of Azerbaijan. Among his earlier works are Sonata and the ballet "Shadows of Gobustan" (1969).

Gasimova Sisters


| | |
| --- | --- |
| | The Gasimova Sisters-Fidan and Khuraman (in Russian, spelled Kasimova)-are both brilliant opera sopranos--a rare combination. |

Fidan Gasimova (1957-) won the gold medal at the International Viotti Competition in Italy in 1977. In 1986, she was named "People's Artist of the Soviet Union." She was also one of two Soviet women listed in a book entitled "The Greatest 100 Women in the World" (The other was Valentina Tereshkova, the first Soviet woman cosmonaut).

Khuraman Gasimova won the first prize at the Maria Callas International Competition in Athens (1981) and placed second at the Tschaikovsky International Competition in Moscow (1982). Although they used to live and teach in Turkey and still visit regularly, they have returned to Azerbaijan where they have plans to establish a specialized school related to opera. A new non-profit foundation has been established--Kasimova Sister's Foundation (1998). They actively take part in concerts throughout the world.

Guliyev


| | |
| --- | --- |
| | Ramiz Guliyev (1947-) is director of the Folk Instrument department of the Academy of Music and an extraordinarily superb tar player perhaps, the greatest Azerbaijan has ever known. He tours abroad quite frequently these days. He has written several books on the technique of tar playing. |


Ayyub Guliyev (19 87 -) is Ramiz' son who is still a young student. In October 1997, he won the first prize in the week-long 1997 Tar Competition at the Academy of Music. Often he and his father perform together at some of the most prestigious concerts in Baku. In June 1997, Mstislav Rostroprovich, the world famous cello player, returned to the city of his birth (Baku) to celebrate his 70th birthday. Ramiz and Ayyub were invited to play at his Jubilee concert and then were invited to follow the cellist to Moscow to perform again at birthday celebrations there.

Hajiyev


| | |
| --- | --- |
| | Composer Jovdat Hajiyev and his son Ismayil, a conductor. |

Jovdat Hajiyev (1917-), a student of Shostakovich, wrote the first symphony in Azerbaijan, "Socialist Azerbaijan" (1936). His other works include the symphonic poem, "Letter to Siberia" (1937) based on a famous poem by Pushkin, "Azerbaijan Suite for Symphony Orchestra," "Fugues for String Quarter." Together with Gara Garayev, he wrote the opera, "Aina" (1939) and "Vatan" (Motherland, 1945). He was deeply involved with organizing higher musical education and directing the Azerbaijan Conservatory of Music. Jovdat's wife, Amina Dilbazi, was famous as a ballerina.

Their sons, Ismayil (1949-) and Mikayil (1951-) are both musicians. Ismayil is a conductor. Mikayil is a violinist.

Magomayev


| | |
| --- | --- |
| | Muslim Magomayev (1885-1937) was a contemporary of Uzeyir Hajibeyov and deeply involved in document ing Azerbaijani folksongs throughout the countryside. Muslim is remembered most for his two outstanding operas-"Shah Ismayil" (1917) and "Nargiz" (1935). |

Muslim Magomayev (1942-), grandson of the composer with the same name, was one of the most famous pop music stars in the former Soviet Union. He lives in Moscow.

Mustafazade


| | |
| --- | --- |
| | Vagif Mustafazade (1940-1979) was one of the driving forces in th eearly jazz movement in the 1960s and 70s. His mother, Ziver ( 1915-1996 ), was a piano teacher. Vagif became a brilliant jazz pianist and initiated the movement of mugam jazz. He took first place at the 8th International Jazz Festival of Composers in Monaco in 1978. |
| | |
| --- | --- |
| | Lala Mustafazade, Vagif's daughter by his first marriage, is a classical pianist. She won first prize in the classical music competition in Epinal, France, in 1991. She now lives in France. |
| | |
| --- | --- |
| | Aziza Mustafa Zadeh, Vagif's daughter by his second marriage, is, perhaps, the most well-known Azerbaijani performer outside of Azerbaijan. She is a jazz pianist-vocalist and tours widely through Europe and the Middle East. She has produced five CDs on the Sony label. The last one, released in 1997, is called "Jazziza," a pet name given to her by her father. She currently lives in Germany. |
Rashidova


| | |
| --- | --- |
| | Nasrin Rashidova (1988-) is a concert violinist who studies at the esteemed Purcell School of Music in London. Nasrin's repertoire includes Paganini, Tchaikovsky, Handel, Boccherini, Thad Jones and Azerbaijani composers Hajibeyov, Garayev, Malikov and Niyazi. |

Her mother Sadagat Mammadova and her father Shamil Rashidov are both violinists. Nasrin's mother accompanies her on the piano during her concerts. Her father performs with the Cairo Symphony in Egypt.

The idea for this article about Musical Families was suggested by Farhad Badalbeyli, an international award-winning pianist and rector of Baku's Academy of Music. He is a descendant of Uzeyir Hajibeyov as his great grandmother was sister to Hajibeyov's mother. Members of Farhad's family have been outstanding professional musicians for four generations.

Farah Aliyeva, the author of this article, is a professor at the Academy of Music in Baku.


From Azerbaijan International (5.4) Winter 1997
© Azerbaijan International 1997. All Rights Reserved.




© Azerbaijan International. Copyright 2001. All rights reserved.