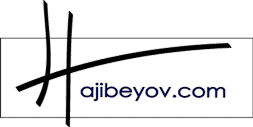 The Unforgettable Image of Uzeyir Hajibeyov
Mikayil Abdullayev, Artist



Courtesy: Hajibeyov Home Museum, Baku.

In 1943 preparatory works for the opening of Azerbaijan Theater Museum named after the dramatist Jafar Jabbarli were being carried out. Our renowned composer Uzeyir Hajibeyov's portrait was to be displayed in the museum exposition, too. Museum authorities, to be more precise, Sona khanim Jabbarli, assigned this honorary work to me.

I decided to paint Uzeyir's portrait from life. But I found out that he didn't want to have anything to do with it. He had refused all the artists who had asked his permission to make his portrait.

So, the case reached the Office of Cultural Affairs. After long deliberations, I was granted permission to go ahead and paint his portrait. I was both happy and excited. I contacted the Director of Azerbaijan Music Fund, Ramazan Khalilov, and arrived at the Music Conservatory before the appointed time. I settled myself in front of the window in Uzeyir's office, then set up the easel and prepared the paints.

First Portrait
When Uzeyir came into the room, we greeted each other respectfully. I didn't say a word - it was almost as if I felt guilty about something. Ramazan began familiarizing Uzeyir with my art tools. Stroking his moustache with his thumb and index finger of his right hand, Uzeyir muttered, "I know, creating a portrait is a difficult job." Then he sat in the armchair, relaxed his hands to the sides, and raising his head a little, asked, "How should I sit?" I answered, "Relaxed, just like you are."

I took a piece of charcoal in my hand and quickly started to sketch. The office was shrouded in silence. You could only hear the scratch of the charcoal against the canvas.

Uzeyir himself broke the silence, "Looks like you're doing a good job. I can already see my picture."

It was true but I was surprised, until I realized that the canvas was very thin and the light penetrated from behind made the image visible.

I finished the portrait in three days. It was not that large in size. In spite of the fact that the museum wanted to get it as soon as possible, I gave it to the composer. I sensed that he liked the portrait a lot.

Second Portrait
Very soon we began a second, larger portrait. This time in his office behind the writing table, there was a dark red carpet as the background. He sat with his hands crossed and said quietly, "Now, let's sit like this." I liked the pose very much. This portrait had a very interesting story behind, too.

After we finished the portrait, Uzeyir caught a little cold and didn't come to work for two-three days. His office was closed at that time. From time to time I would come and take some of my paints and brushes. It so happened that one day when I was leaving, I put his portrait on the chair behind the writing table and leaned it against the carpet on the wall allowing the paint to dry.

The next day Uzeyir called the office of the Conservatory from home to ask for something. So, they gave the keys of the office to the cleaning lady to go get something from there. She opened the door and soon walked out of the room heading to the office and said that Uzeyir had come to work himself.

Surprised, nobody believed it. First of all, Uzeyir was sick. Second of all, he had called just five minutes earlier, it would have been impossible for him to get there so quickly. Shortly afterwardsm someone else went to his office to check it out. From the keyhole, he could see "Uzeyir sitting in his chair". This time the director of the Training Department went there himself, opened the door, and as he admitted later, first he got puzzled and then on seeing Uzeyir's portrait, he burst into laughter. This story was told and laughed about many times after that. Uzeyir used to say, "You see, the second portrait passed the exam by itself."

Third Portrait
In 1944 when I just began working on a third portrait for the Art Museum, Uzeyir was called to Moscow. It turned out that his coming back from Moscow and my going there to continue my education coincided. At that time Uzeyir gave me one his favorite photos. That photo helped me to finish his third portrait. But later that portrait was given to the Theater Museum, and the second one to the Art Museum. I am dearly keeping holding onto the photo that he gave me.

The first portrait that I gave him is on display in his house [now the Uzeyir Hajibeyov Home Museum]. Recently that portrait was temporarily transferred to the Glinka Museum in Moscow. As soon as the new portrait of the great composer is ready and sent to the museum, the first portrait will be taken back to Uzeyir's home. The portrait that I painted for the Glinka Museum was based on a sketch of watercolors that I drew in 1944. We discussed that sketch together with Uzeyir and I still remember some of the comments he made.

I remember, there used to be various meetings during the break time. Singers and soloists would very often come to the great teacher asking his advice. Sometimes Uzeyir would say, "We'll give a concert for Mikayil during this break". And it would really happen. I would listen to the singers performing. My close relations with Fikrat Amirov, Niyazi, Soltan Hajibeyov, Suleyman Alasgarov, Ashraf Abbasov, Haji Khanmammadov and other composers began from that day onward.

Uzeyir listened attentively to his students with fatherly love and he instructed them. He listened to the young women composer - Aghabaji, Adila [Huseinzade], Shafiga - also with fatherly love.

One day we had to cut the break time short. Uzeyir said, "Tonight we are taking Mikayil to the opera. The famous Italian composer Rossini's "Barber from Seville" will be performed for the first time in our mother tongue ­ the Azeri language. Let's go see the premiere."

We went to the opera at 12 PM. The talented Aghababa Bunyadzade was playing the role of Figaro. He is still remembered for Figaro's main role that he performed which is still loved by the people. Uzeyir highly valued young Aghababa's rare voice and his stage talent. I remember the composer decided to write another variant of Koroghlu's role just to suit Bunyadzade' baritone voice.

Uzeyir was always grateful to everyone from the soloists to the regular members of the choir, insisting that no success was possible without them. He took care of everybody, and did his best to help.

Those who knew Uzeyir closely can write an epic about the gentleness and kindness of such a big-hearted man. Uzeyir was really a great son of his nation.

The days that I met with Uzeyir, talked with him and painted his portraits are the dearest memories of my life.

1965
__________

"Memory of a Composer", Articles and Recollections. Compiled by Ahmad Isazade. Pages 54-56. Azerbaijan State Publishing House. Baku, 1976.

Translated and typed by Farida Sadikhova, Edited by Betty Blair.





© Azerbaijan International. Copyright 2001. All rights reserved.